30th October, 2021
Indian Institute of Forest Management (IIFM), Bhopal
The Exhibition 'Seeds of Hope & Action (SOHA): Making the SDGs a Reality' was held on 30th October 2021 at Indian Institute of Forest Management (IIFM), Bhopal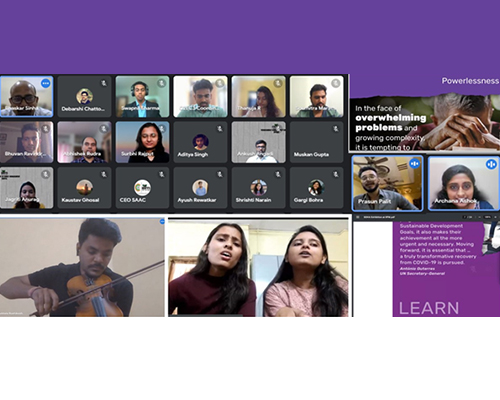 The exhibition is a joint initiative of the SGI and the Earth Charter International and it introduces a positive vision for sustainable living that can contribute to the realization of the Sustainable Development Goals (SDGs).
The online exhibition, which was organized by the Climate Change and Environment Core Competency Cell (C2EC3), was viewed by around 100 students and faculty. A training session was organized by BSG for the students of the Institute about the various aspects of the exhibition. The students in turn enthusiastically leaned and further explained every panel to their peers and faculty.
A powerful Violin recital and medley of songs was presented by the students as a part of the program. A short film introducing BSG and its activities was also screened for the audience. The exhibition concluded with an 'interaction session' in which students asked various questions on Climate Action on the upcoming COP26 event.
Dr. Bhaskar Sinha, Associate Professor and Chairperson, Centre for Climate Change Studies, thanked BSG for organizing the session and hoped to hold similar sessions in the future.