13th July, 2023
Sardar Patel Vidyalaya, New Delhi
The 61st 'Seeds of Hope & Action (SOHA): Making the SDGs a Reality' (SOHA) was held on 13th July 2023 at Sardar Patel Vidyalaya, New Delhi. Nearly 350 students and teachers viewed the exhibition.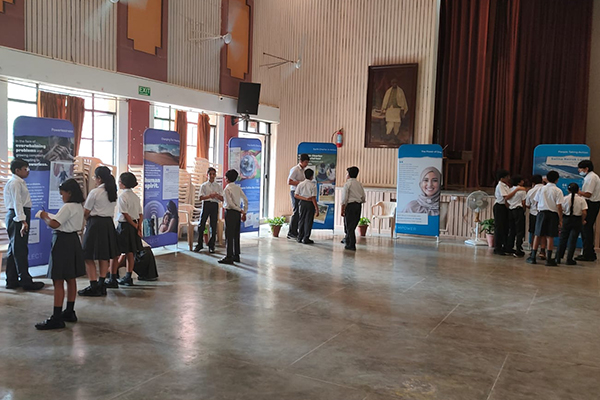 Since 2021, BSG has been conducting the SOHA exhibition in educational institutions with the purpose of raising awareness about the concept of sustainability. Through the exhibition, one can learn about how one single individual adopting "Sustainable Human Behaviour" (SHB) can bring about a change in their environment, and thereby achieve sustainability. One can truly see how making small but significant changes in one's daily life (such as being considerate of one's neighbours, being mindful of water consumption, and energy consumption, etc. overcoming one's own prejudices and biases, etc.) can result in a change at the larger global level.
The exhibition is divided into 5 sections namely – Inspire, Learn, Reflect, Empower, Act & Lead. Comprising 25 panels, the exhibition takes one through a journey of sustainability. The exhibition also emphasizes the interconnectedness between all lives, and how one can overcome feelings of apathy and powerlessness.
The exhibition was formally inaugurated by Ms. Anuradha Joshi, the Principal. She appreciated the initiative of BSG in organizing the exhibition and the commitment of the students toward sustainability.
The students of the school from Class VIII & IX, presented the exhibition panels in their unique ways, and their presentation was well received by the viewers. They also shared about their own activities in their daily lives through which they are contributing to sustainability.
A few pictures are provided here.