6th May, 2023
Punjabi Bagh New Delhi
On 06 May 2023, BSG conducted the 53rd Seeds of Hope & Action (SOHA) exhibition, this time at the Hansraj Model School in Punjabi Bagh, Delhi. The exhibition was conducted along with the annual Parent-Teacher's meeting of the school. More than 300 parents, teachers & students viewed the exhibition.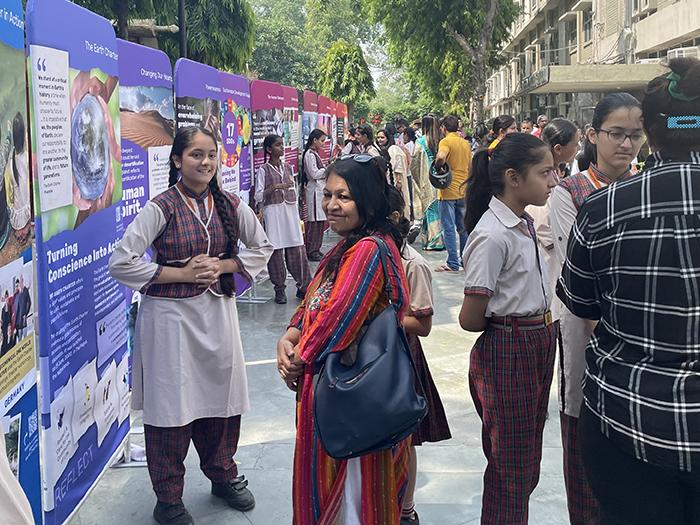 The purpose of the exhibition was to raise awareness about the concept of sustainability and how one single individual can take action to bring about a change in their environment. The exhibition underscores the fact that it all boils down to one single individual taking consistent action that will create a better, and more sustainable world, by adopting 'Sustainable Human Behaviour' (SHB) in their lives. Divided into 5 sections (Inspire; Learn; Reflect; Empower; Act and Lead), the exhibition emphasizes about the interconnectedness between all lives, and how sustainable living can lead to the achievement of the United Nation's Sustainable Development Goals.
The panels were presented by the students of the school studying in Grades VI to VIII. The students passionately explained about the 'Power of One', and the way in which it can help in achieving the SDGs. They also shared various examples and ways in which one must contribute to create a more sustainable world. The students spoke about the concepts of climate justice, powerlessness and the need to bring a change in our hearts.
Parents & teachers alike appreciated the efforts of the students in presenting the panels. The Principal, Ms. Heemal H Bhat, appreciated BSG for the initiative of organizing the exhibition, and in particular the fabric based exhibition panels which were on display. She also expressed hope for more such collaborations with BSG.
A few pictures are provided here.