18th November, 2022
DY Patil Institute of Hospitality & Tourism Studies, Navi Mumbai
BSG organized the Seeds of Hope and Action Exhibition (SOHA) on Friday, 18th November 2022 in DY Patil Deemed To Be University, School of Hospitality & Tourism Studies (SHTS), Navi Mumbai.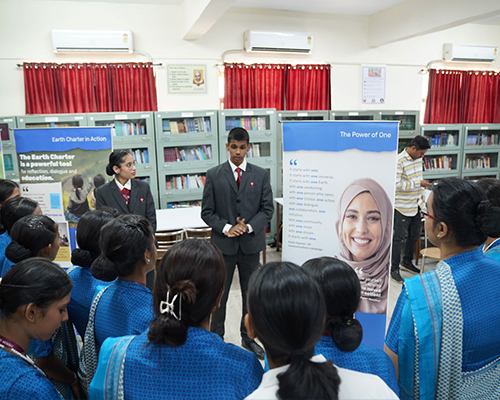 The exhibition seeks to raise awareness about sustainability and how one single individual can create great change in their environment.
The exhibition was held offline and commenced with a session, which introduced the SOHA exhibition, the "BSG for SDG" Initiative & featured discussions on sustainability. Ms. Rajlakshmi V Patil, Founder DY Patil Climate Action Lab (D-Cal), shared a video message, commending the efforts to organize the SOHA exhibition.
Dr. Subhajit Mukherjee (Founder of Mission Green Mumbai) & Ms. Pratiksha More (Founder of Sustainability 101) were the guest speakers in the session. Dr. Subhajit spoke about his work in water conservation & rain-water harvesting. He shared the importance of taking action to achieve the SDGs in our own capacities, and not be passive. Ms. Pratiksha urged the audience to be more conscious in their actions, and the need to recycle, repair and reuse items.
The exhibition was then opened for viewing, with the students of the college presenting the exhibition panels. Dr. Subhajit & Ms. Pratiksha both expressed their appreciation about the concept of the SOHA exhibition, especially the way in which the SDGs had been collated in each of the 25 exhibition panels. They also expressed delight for the "BSG for SDG" App.
The exhibition was well received by the viewers comprising of more than 100 students of the college, along with faculty members. They expressed their determination to lead more sustainable lives through small daily actions.
Vice Principal of the College Ms. Arti Pednekar also thanked BSG for setting up the exhibition. She expressed hope that the exhibition will open a new way forward in hospitality institutes, starting from the College.