On 03 June 2023, the Gandhi Ashram School in Kalimpong hosted the Seeds of Hope & Action (SOHA) Exhibition organized by BSG. This was the 55th exhibition organized by BSG since the beginning of 2021.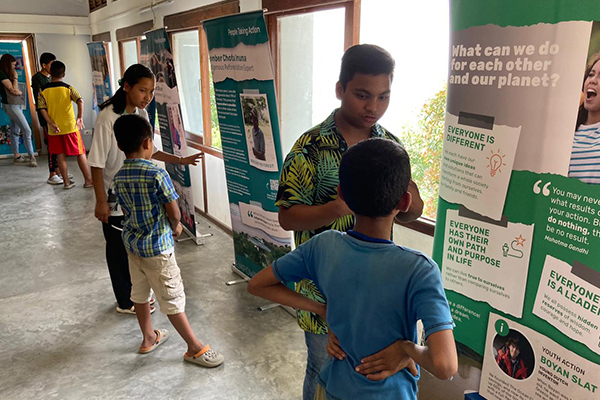 BSG seeks to conduct the SOHA exhibition with a vision to advance 'Sustainable Human Behaviour' (SHB) among the students of schools and colleges, who will in turn lead the way in taking steady and consistent action to create a more sustainable world. SHB is essentially an inner transformation in the depths of one's life – bringing mindfulness and consideration towards others who are at the forefront – be it other humans, animals, birds, environment, laws, institutions, etc.
The exhibition coincided with the school's annual interdisciplinary project titled 'Our Common Home, Our Shared Future'. The program commenced with a Dance Musical by the School's Chorus & Orchestra, showcasing the musical talents of the school. This was followed by an introduction of the exhibition which spoke about the interconnectedness of life, and the need to preserve the nature by achieving the SDGs through SHB.
More than 1000 parents, teachers, students and BSG members viewed the exhibition.
Students who explained the exhibition panels, passionately shared about the "Power of One". They also enthusiastically got involved in every aspect of the exhibition, starting from setting up the exhibition panels themselves, welcoming viewers to the exhibition right till the completion of the exhibition. They also shared about how they were impacted by the theme of the exhibition.
Viewers shared about why it is imperative to achieve sustainability, referring to the rising temperatures in Kalimpong. They also expressed their desire to conduct this exhibition along with BSG in various other schools in and around Kalimpong.
Glimpses of the exhibition can be seen here.