19th – 20th January, 2023
AIIMS
Bharat Soka Gakkai recently organized a two-day exhibition titled "Seeds of Hope & Action Exhibition: Making the SDGs a Reality" (SOHA) at the All India Institute of Medical Sciences (AIIMS) in New Delhi.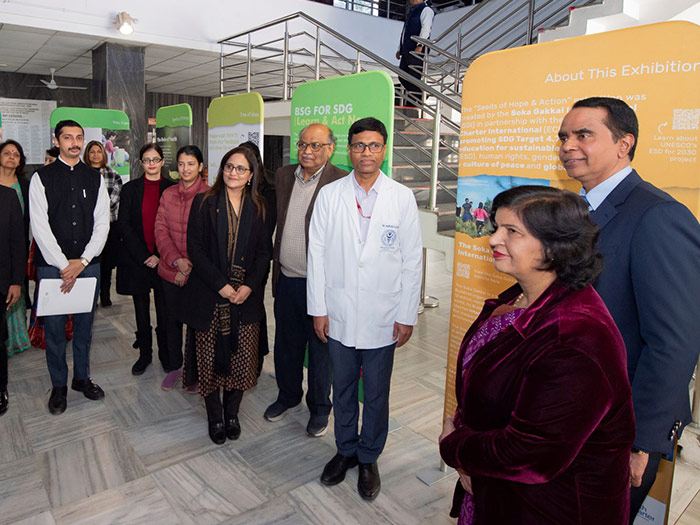 The exhibition, which took place on January 19th and 20th, 2023, used the "Learn, Reflect, Empower, Act & Lead" formula outlined in Daisaku Ikeda's proposals on education for sustainable development. The exhibition aimed to inspire viewers to take action and make positive changes in their own lives.
The exhibition was opened with a session where the exhibition was introduced by various speakers, including Dr. Rama Chaudhary, Dean-Research, Mr. Vishesh Gupta, BSG Chairperson, Dr. M. Srinivas, Director-AIIMS, Dr. Subrata Sinha, Dean-Academics, and Ms. Jaya Rao, Head – Media, PR & Sustainability, BSG.
In her welcome address, Dr. Rama Chaudhary, Dean of Research at AIIMS, emphasized the importance of ensuring access to education and healthcare for all, and highlighted how these two areas are closely connected. She also stated that AIIMS is well-positioned to take a leadership role in achieving these goals by providing education and training to future medical professionals.
Mr. Vishesh Gupta, the Chairperson of Bharat Soka Gakkai, emphasized the significance of adopting "Sustainable Human Behaviour" as a way of life. He acknowledged the various environmental challenges facing society and encouraged individuals to consider the actions they can take to improve their local communities. He also emphasized the power that each individual holds to effect positive change in society, and urged everyone to learn, reflect, and take action to make a difference.
Dr. M. Srinivas, the Director of AIIMS, announced that the organization is committed to implementing sustainable practices and taking a leadership role in achieving the SDGs within the medical community. He specifically mentioned SDG 3 (Good Health and Well-being), SDG 5 (Gender equality), SDG 6 (Clean Water and Sanitation), SDG 9 (Industry, innovation and Infrastructure), SDG 13 (Climate Action) and SDG 17 (Partnerships for Goals), and discussed how AIIMS plans to work towards achieving these goals. He also commended the efforts of Bharat Soka Gakkai in empowering individuals to contribute to sustainability and expressed hope for a successful partnership between AIIMS and BSG in this endeavour.
Dr. Subrata Sinha, Dean of Academics, cited Mahatma Gandhi's statement "there is enough in the world for man's need but not for man's greed" and highlighted the importance of overcoming selfishness in order to create a better future.
Ms. Jaya Rao, Head of External Relations, Media and Sustainability at Bharat Soka Gakkai, gave a vote of thanks. She expressed her appreciation to AIIMS for their full support and assistance in organizing the exhibition. She also stated that medical care is a sacred endeavour that is rooted in compassion and thanked all the dedicated medical and healthcare professionals for their hard work.
The exhibition was then made available for viewing. Volunteers from Bharat Soka Gakkai provided explanations for the various exhibition panels. Over 400 people, including doctors and medical students from AIIMS, visited the exhibition over the course of the two days. Attendees reported feeling happy and empowered as a result of the exhibition. Many also shared that they learned new information and felt determined to contribute to sustainability in their own way. Attendees were also encouraged by the idea that a single individual can initiate significant change.