21th April, 2023
Hyderabad
The 'Seeds of Hope & Action (SOHA): Making the SDGs a Reality' – a sustainability focused exhibition was organised by BSG at the Vignana Jyothi Public School, Hyderabad, on 21 April 2023. This was the 50th exhibition organized by BSG since the beginning of 2021.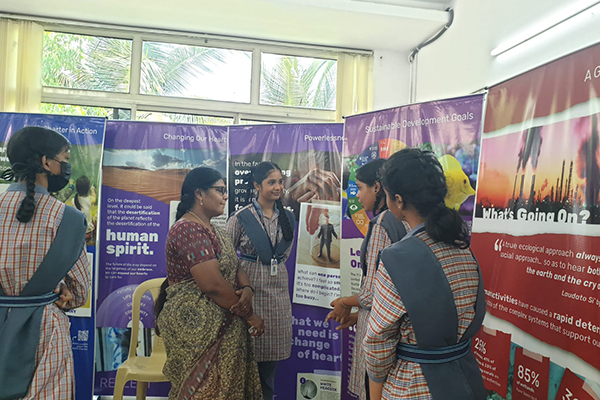 The 25-panel SOHA exhibition underscores about how one single individual adopting "Sustainable Human Behaviour" (SHB) can take action to create great positive change in the environment. The exhibition also showcases examples of individuals across the world who have successfully taken courageous action to create change.
The exhibition was attended by more than 300 parents & teachers of the school. The panels were explained by the students of the SDG Club of the School (set up by BSG in the school). The students shared about the panels very enthusiastically, showcasing their passion & understanding for sustainability. They also showed a keenness to continue learning about sustainability.
The faculty of the school were very appreciative of BSG's efforts in organizing the exhibition, and expressed happiness that the students got great exposure and learning by participating in the exhibition.
The students shared their determination to take the SDG club activities forward and actively contribute towards achieving a more sustainable world.
Viewers felt encouraged by this concept of 'Power of One' and resolved to lead more sustainable lives.
One of the viewers shared "Start right now to save nature for better future."
Another viewer shared "We all should become united and save our environment."
A glimpse of the exhibition can be seen in the pictures here.