18th – 19th November, 2022
Manav Rachna International School, Charmwood, Faridabad
BSG conducted the Seeds of Hope & Action: Making the SDGs a Reality exhibition over a period of two days on 18th & 19th November 2022 at Manav Rachna International School, Charmwood, Faridabad. The exhibition introduces a positive vision for sustainable living that can contribute to the realization of the Sustainable Development Goals (SDGs). It also includes panels portraying six individuals of various nationalities who have successfully taken positive action for change.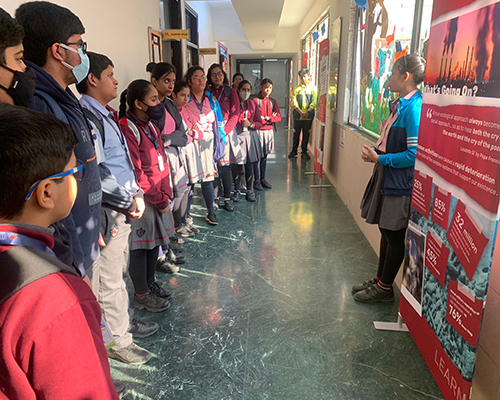 The exhibition was held offline and was inaugurated on 18th November 2022 with a session, which introduced the SOHA exhibition and the "BSG for SDG" Initiative. Representing BSG, All-India YWD Chief Ms Shruti Nangia engaged with the students from Class VI, sharing practical tips & simple day to day actions on "Sustainable Human Behaviour".
The exhibition was then opened for viewing. Students from Classes IX & X of the school presented the panels.
Day 1 of the Exhibition witnessed students of the higher grades from the School & other nearby schools attending the exhibition. Day 2 of the Exhibition coincided with a Theme Assembly on "Namami Gangey" presented by students of Classes IV & V of the School & other Manav Rachna Schools. This was followed by a viewing of the exhibition by nearly 50 students & 400 parents. The exhibition was very well received across both the days by the teachers, students, and parents.
The Principal of the School Dr. Suchitra Bhattacharya expressed her appreciation to BSG for organizing the exhibition, and its activities in the field of sustainability through empowering one single individual. Vice-Principal of the School Ms. Surbhi Joshi also thanked BSG, sharing that she felt inspired by the concept of the exhibition.