11thApril, 2023
Faridabad
Bharat Soka Gakkai (BSG) conducted its 47th Seeds of Hope & Action (SOHA) exhibition at the Manav Rachna University, Faridabad on 11 April 2023.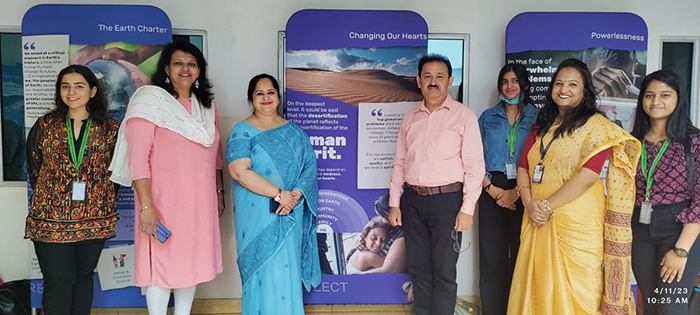 Students of the university along with volunteers from BSG took centre stage in passionately explaining the 25 panels of the exhibition. Through the exhibition, they explained on how one person, through the formula of 'Inspire, Learn, Reflect, Empower, Act & Lead' can bring about a great change in the community and thereby positively transform the entire society and the world. This sustainability exhibition also speaks about the need to achieve sustainability through individual actions.
The exhibition drew in over 500 visitors from the college and surrounding institutions, all eager to learn and contribute to a better world. The feedback was overwhelmingly positive, with attendees stating that the exhibition was a timely reminder of the urgent need for action towards sustainability. A step towards a greener future, one exhibition at a time!
Some glimpse of the exhibition can be seen here.