9th – 10th February, 2023
Delhi College of Arts & Commerce, New Delhi
BSG conducted a SOHA Exhibition at the Delhi Commerce of Arts & Commerce, New Delhi. The exhibition was conducted in collaboration with the Friday School of Economics & IQAC of the College, spanning two days across 09 & 10 February 2023. More than 500 students and faculty of the college attended the exhibition.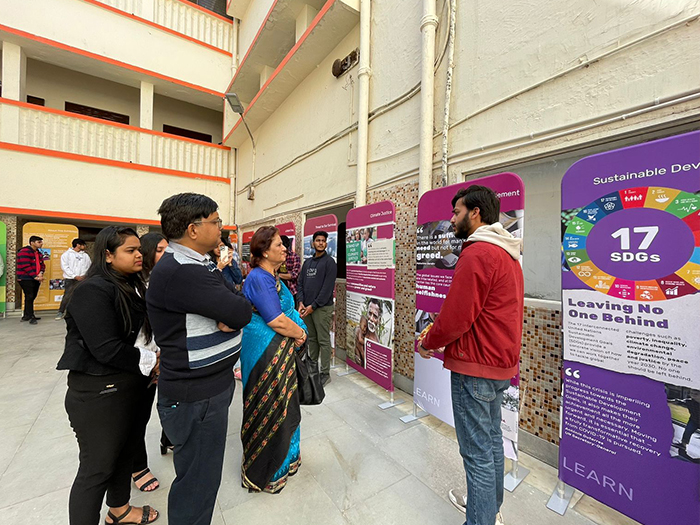 The SOHA exhibition is a humble effort by BSG to stimulate reflection, discussion, and ideas from youth on how to achieve the SDGs by 2030 and creating a world where 'no one is left behind'. The primary goal of BSG in hosting these exhibitions is to impart the message of "Sustainable Human Behaviour" (SHB), which refers to a personal transformation towards living sustainably, with respect for all life at the forefront.
The exhibition was commenced with an introductory session in which the concept of the exhibition was introduced, followed by a viewing of the 'BSG for SDG' film.
The students from the college then explained the panels of the exhibition across both the days and were appreciated by fellow students and teachers alike. Viewers also shared about how informative and inspirational the exhibition had been. Some of the feedback shared are listed below:
"The panels cover many different aspects of climate justice and bring to the front the way humans have impacted the environment. Without social justice, there cannot be climate justice!"
"Wonderful Effort! Thought provoking panels. Makes us really think about 'the Power of One'."
"Quite an impressive presentation! Programmes like this must be organized quite often to raise awareness."