17th November, 2022
Maulana Azad Medical College, Delhi
The Seeds of Hope and Action Exhibition (SOHA) was organized by BSG on Thursday, 17th November 2022 in Maulana Azad Medical College, Delhi, as part of the Foundation Course for the newly admitted batch of MBBS students.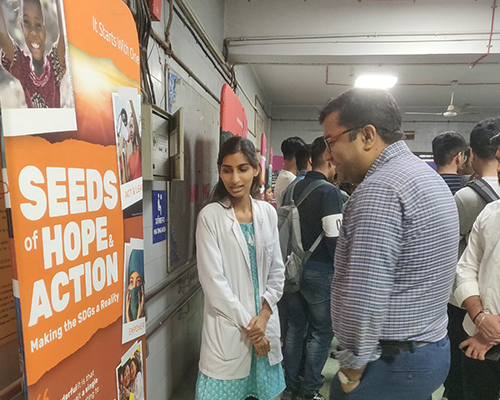 The exhibition seeks to raise awareness about sustainability and how one single individual can create great change in their environment.
The exhibition was open for the students & teachers at the college throughout the day. There was also a session which started with presentations on SOHA Exhibition and the "BSG for SDG" Initiative.
Representing BSG, All-India YWD Chief Ms Shruti Nangia interacted with the youth and shared about the importance of "Sustainable Human Behaviour". She also shared some practical examples such as switching off the lights & water taps when not in use, urging the students to make a commitment to lead more sustainable lives through simple day to day actions.
The students of the college presented the exhibition panels in their own unique ways, which was well received by the viewers, who expressed their delight at the exhibition.
The Dean, Dr. Ritu Arora encouraged and appreciated the students' efforts, and thanked BSG for the initiative. She expressed hope that the exhibition will open a new way forward in the college and help the youth play a vital role in the society.