BSG conducts 2023's first SOHA Exhibition in the Soka Ikeda College for Women, Chennai
2nd – 3rd January, 2023
Soka Ikeda College for Women, Chennai
BSG, in collaboration with the Soka Ikeda College for Women, Chennai (SICW), conducted the first SOHA exhibition for 2023. The exhibition was held offline over a period of two days on 02nd and 03rd January 2023 and was viewed by more than 1500 students & teachers from SICW and different schools and colleges in Chennai.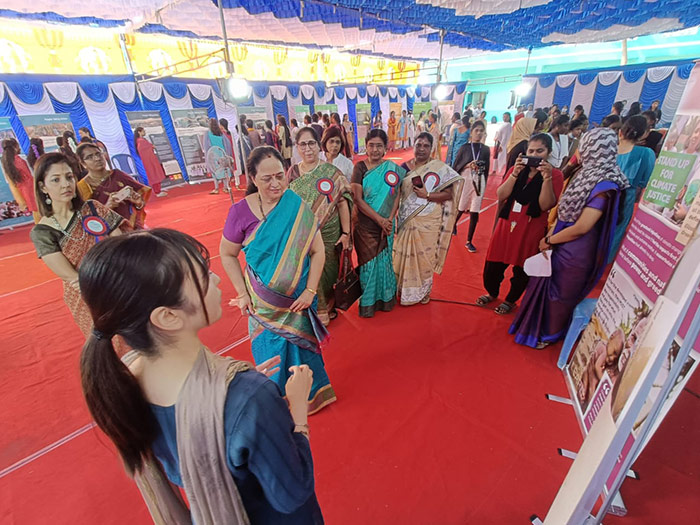 The 25-panel SOHA exhibition introduces a positive vision for sustainable living that can contribute to the realization of the Sustainable Development Goals (SDGs). It also showcases examples of six individuals across the world who have successfully taken action and have proved that a single individual can initiate positive change. The exhibition raises awareness on climate change, the SDGs and the role of youth.
The exhibition was inaugurated on 02nd January 2023 with an introductory session following which it was opened for viewing. The exhibition panels were explained by students from SICW and the Sethu Bhaskara Matriculation Higher Secondary School, in their own unique ways. The students also shared their own ideas to build a more sustainable world, and resolved to be that one individual who will lead through their own example.
The Principal of SICW, Dr. Meera Murugesan, appreciated BSG for the initiative. She also appreciated the efforts of the students who presented the panels.
The exhibition was well received by the viewers, who shared that the exhibition was very useful & informative. Many viewers shared that they learnt many new aspects through the exhibition. Below is a glimpse of some of the feedback shared:
"It is very useful for me to realize how it is important for one person to come up."
"One of the takeaways for me was that desertification in nature is the desertification of spirit! I'd like to expand compassion to all lives as much as possible."
"This exhibition helps us to know about many things and what we can do!"