3rd September, 2022
Indian Institute of Forest Management (IIFM), Bhopal
The Seeds of Hope and Action Exhibition (SOHA) was organized by BSG on Saturday, 03rd September 2022, in association with the Indian Institute of Forest Management (IIFM).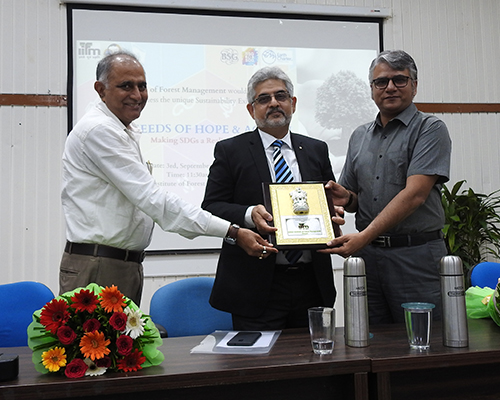 This was the 2nd SOHA exhibition to be held 'Offline' this year. It was viewed by nearly 500 students from IIFM and different schools and colleges across Bhopal.
The session started with a welcome by Professor Amitabh Pande, who explained the immense value of the campus for the city. This was followed by an address by Professor Yogesh Dubey, who highlighted the importance of integrating nature in our daily routine, and inculcating a multi-dimensional awareness of sustainability, linking personal and societal change.
This was followed by an introduction about SOHA and the vision and activities of BSG.
On behalf of BSG, Shri Vikas Verma, Regional Head, UNDP North India, and a member of the BSG FOR SDG Taskforce addressed the gathering and interacted with the youth, answering their questions. He talked about the importance of focusing solutions towards the most vulnerable sections. He emphasised on involving everyone in the actions towards SDGs, to ensure justice and equality, and the importance of protecting nature for peace and security in the world. He then called upon the students to create integrated approaches that begin with the realization of fundamental interconnectedness of each individual with society-at-large and the world.
This was followed by a cultural performance by students of IIFM, after which the offline exhibition was opened for viewing.
The exhibition was well received by many people, a majority of whom were below 35 years of age. Many of the youth left the exhibition with messages that reflect their awareness that all sections of society need to come together to make a better world, to realize the vision of the SDGs of "leaving no-one behind".