6th May, 2022
St. Stephen's college in Delhi University
Seeds of Hope and Action Exhibition (SOHA) was organized by BSG on Friday, 6th May 2022 for working professionals pursuing the Young Leaders Fellowship Program at St. Stephen's college in Delhi University. These youth were from India's neighbourhood including Bangladesh, Sri Lanka, Nepal, Bhutan, and Maldives.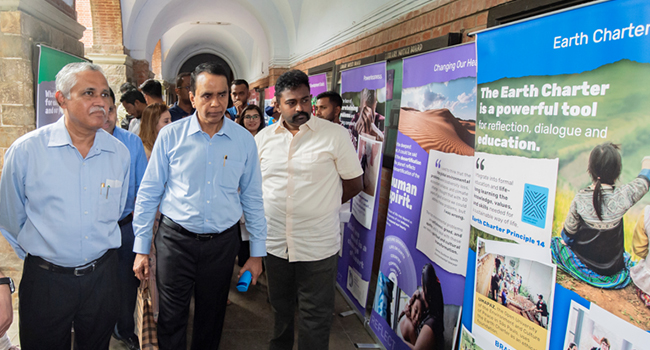 BSG Chairperson Mr. Vishesh Gupta and St Stephens College Principal Prof John Varghese (Extreme Left) viewing the 1st Offline SOHA Exhibition.
This was the 1st SOHA exhibition to be held 'Offline' after a long gap of more than 2 years.
The session started with presentations on SOHA Exhibition and on the topic 'Youth and SDGs'. This was followed by an open session, wherein the youth engaged in a heartfelt interaction with BSG, showcasing their keen spirit to bring about a transformation in their country, living the power of one, which is also the key theme of the SOHA exhibition.
On behalf of BSG, Chairperson Mr Vishesh Gupta and All-India YWD Chief Ms Shruti Nangia interacted with the youth and answered their questions.
To a query on the BSG's contributions towards realizing SDGs, Mr Gupta explained that BSG has adopted the 3-step formula of 'Learn, Empower, Act' as outlined by SGI President Daisaku Ikeda and shared the various initiatives undertaken by BSG. He shared that when youth become conscientious about saving food, water, electricity, and about protecting the natural environment etc, their actions inspire their parents to also adopt sustainable behaviour patterns. This can become a catalyst for effecting lasting change on a global level.

Group Photo with the youth pursuing the Young Leaders Fellowship Program at St. Stephen's college in Delhi University
The offline exhibition was later opened for all the students of St Stephens college.
Principal Prof John Varghese viewed the panels along with the group and expressed appreciation to BSG for the initiative and hoped that the takeaways from the QnA would help the youth play a vital role as decision makers to take SDGs forward in their respective countries.