23rd September 2019
Venue: Dr Ambedkar International Centre, New Delhi

Report
After the historic opening of the 2 grand citadels of BSG, the visit of SGI delegation led by Soka Gakkai President Minoru Harada concluded with the presentation of Honoris Causa on SGI President Daisaku Ikeda on 23rd September 2019 at Dr Ambedkar International Centre.
The conferral ceremony was attended by Soka Gakkai President Mr. Minoru Harada, Mr. Yoshiki Tanigawa, Senior Vice President; Ms. Kimiko Nagaishi, Women Leader of Soka Gakkai; Mr. Vishesh Gupta, Chairperson Bharat Soka Gakkai; Dr. Prashant Bhalla, President, Manav Rachna Educational Institutions (MREI); Dr. Amit Bhalla, VP, MREI; Dr. I K Bhat, VC, MRU. Also in attendance were youth delegation members from Japan, key functionaries from MRU and representatives from BSG. The ceremony was attended by over 650 members, guests and media. The audience included several eminent educators, government officials, artists, lawyers etc. Some eminent guests in attendance were Ms. Deepa Gopalan Wadhwa, Former Ambassador to Japan and Padmashree Awardee Bharat Natyam Dancer Smt Prathibha Prahalad to name a few.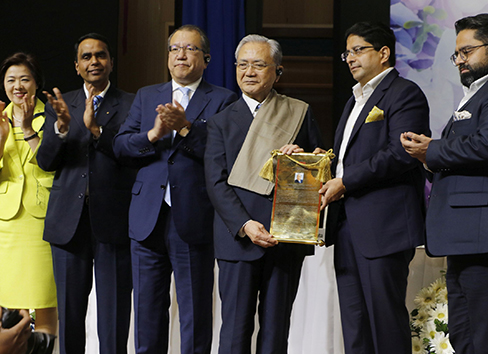 While presenting the award, Dr Prashant Bhalla expressed his joy on this momentous day of pride, honour and profound happiness and said "Dr Ikeda embodies a vision and mission that Manav Rachna humbly stands for and the Manav Rachna family extends its heartfelt gratitude to him for being an unmatched inspiration for its students. Dr. Ikeda's mission of Peace and Sustainability has inspired many an endeavor at Manav Rachna University campus. He further said, "Dr. Ikeda's life is one that is hard to emulate. But if one were to try, undertaking by every person in the world of even a fraction of initiatives that he did, will be the answer to world peace."
Accepting the award on behalf of President Ikeda, Soka Gakkai President Minoru Harada said, "The distinctive style of education at Takshila resonates with the noble philosophy of Dr. O.P. Bhalla, the philosophy with which he envisioned the creation of better human beings. At Soka Gakkai International, we share a common bond with Manav Rachna University that spans multiple levels.
The doctorate from MRU is the 16th doctorate awarded to President Ikeda from India.
The conferral ceremony concluded with presentation of memento to Mr Minoru Harada by Dr Prashant Bhalla and vote of thanks by Ms. Sangita Banga, Dean Academics, MRU.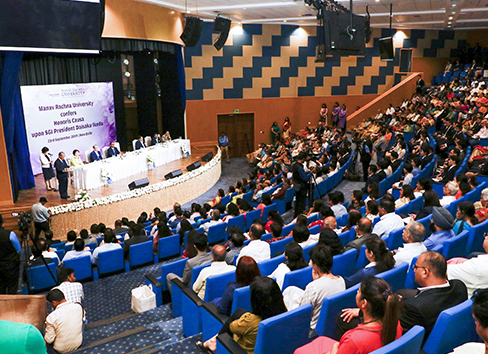 Many guests were deeply moved by clockwork precision of the arrangements and the warmth of the members who welcomed them and at the same time they felt powerfully invigorated by the power and passion of the youth in attendance and President Ikeda's acceptance speech.
One guests later commented, "Watching the conferral of Honoris Causa on SGI President Daisaku Ikeda by Manav Rachna University proved to be highly inspirational. Everything was so beautifully and aesthetically organised. I could see that so much planning, preparation and execution had gone into the making of the program. The only missing point – I was so keen to feel the grace of Daisaku Ikeda. His message in some sense compensated the sense of loss. I sincerely feel that with President Ikeda with us, the idea of world peace can easily be achieved.