MADURAI INSTITUTE OF SOCIAL SCIENCES CONFERS HONORARY PROFESSORSHIP ON PRESIDENT IKEDA
April 18, 2015
Madurai Institute of Social Sciences, Madurai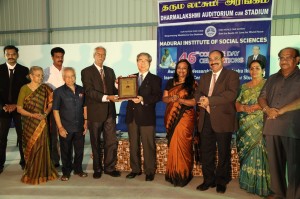 The Madurai Institute of Social Sciences (MISS) awarded the title of Honorary Professor in Social Sciences to SGI President Daisaku Ikeda, founder of Soka University, "for his outstanding and valuable contribution for the cause of world peace", on 18 April 2015.
Prolonged applause and loud cheers followed the announcement of the award at the ceremony held in the Dharmalakshmi Auditorium cum Stadium on the MISS campus. Dr. Akash Ouchi, BSG's honorary deputy chairperson, Ms. Bharati Ramachandran, BSG's director and all-India deputy WD chief, and Mr. S. Seshadri, BSG's general area chief of Tamil Nadu-Kerala General Area, accepted the award on behalf of Dr. Ikeda from Dr. (Capt) D.V.P. Raja, founder and chairman of MISS.
The conferral ceremony was held in conjunction with the 46th College Day celebrations and inauguration of the Centre for Thiruvalluvar Studies.
Also in attendance were Dr. M. Kannan, principal of MISS; Dr. G. Pankajam, former vice chancellor of the Gandhigram Rural Institute; Dr. M. Lakshmanan, well-known microbiologist and former vice chancellor of Madurai Kamaraj University; Mr. N. Manimozhiyan, principal general secretary, Ulaga Thirukkural Peravai; faculty, staff and 600 students of MISS; and BSG members from Chennai, Salem, Coimbatore, Bengaluru and Madurai. After Dr. Raja read out the citation, the hall was again filled with great jubilation and warm applause.
The Madurai Institute of Social Sciences, established in 1969, is a multi faculty research centre affiliated to Madurai Kamaraj University and the first college in South India to offer courses related to professional social work and human resources management.
In his acceptance message, Dr. Ikeda said, "Nothing would please me more than to share this great honour with my beloved and noble friends of Bharat Soka Gakkai and my fellow members of the Soka Gakkai International in 192 countries and territories, the men and women who are striving to advance peace, culture and education as civic-minded citizens and good neighbours. I will cherish this academic honour for the rest of my life."