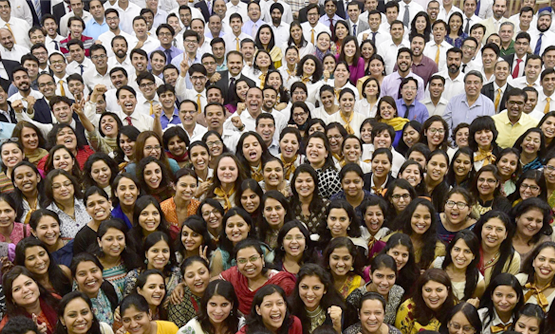 [© BSG]
Bharat Soka Gakkai (BSG) is the Indian affiliate of the Soka Gakkai International (SGI), a global association of grassroots organisations that seeks to promote the values of peace and respect for all people. With its headquarters in New Delhi, BSG has its membership spread over 600 towns and cities across India. Coming from all walks of life, the members of BSG are engaged in their 'human revolution', drawing inspiration from the humanistic life philosophy. Central to this philosophy is the belief that a fundamental change in a single individual can bring about a great transformation in society.
SGI, with over 12 million members in 192 countries and territories around the world has at the core of its movement for peace, the ideal of education for global citizenship. Through a wide range of activities, the SGI seeks to foster awareness of the social and environmental responsibilities we all share for the future of our planet. This is education in the broadest sense of the word, and it is not limited to classrooms or to any particular age group. Through cultural exchange and direct interactions with people, SGI organisations seek to advance the search for common values such as tolerance and coexistence despite differences and to strengthen our sense of common humanity. Working in consonance with the guiding principles of the SGI, BSG has sought to create an environment of peace through cultural, educational and community-related activities. What sets these initiatives apart is the humanistic spirit of 'reaching out' through 'heart-to-heart' dialogue, as practised by the founding president of SGI, Daisaku Ikeda.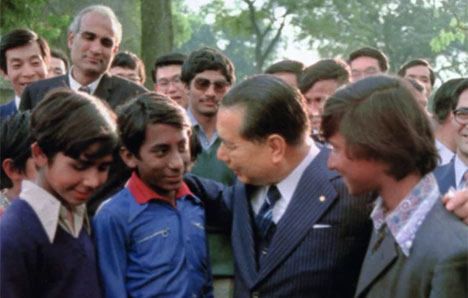 [© BSG]
The prime point of BSG's growth has been the visits of SGI President Ikeda to India in the last five decades. During his visit in 1961 President Ikeda visited Bodh Gaya, and in 1979 he met and encouraged a handful of BSG members. His visits in 1992 and 1997 were on the invitation of various Indian organisations like Indian Council for Cultural Relations (ICCR), etc., where he met top government leaders and bureaucrats and delivered lectures. At the invitation of Gandhi Smriti and Darshan Samiti in 1992, President Ikeda delivered a lecture titled "Towards a World without War – Gandhism and the Modern World". In 1997, he gave a lecture titled "A New Humanism for the Coming Century" at the invitation of Rajiv Gandhi Institute of Contemporary Studies. Through these meetings and lectures, President Ikeda created a deep understanding of the Soka Gakkai movement in Indian society. These visits became the catalyst for the heightened awareness of BSG members to strive as contributive citizens of the country.