BARKATULLAH UNIVERSITY CONFERS HONORARY DOCTORATE ON PRESIDENT IKEDA IN JAPAN
January 22, 2016
Tokyo, Japan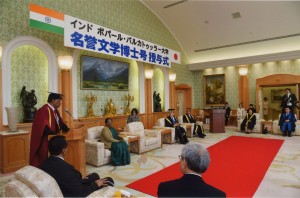 On 22 January 2016, SGI President Daisaku Ikeda was conferred the Doctor of Letters (Honoris Causa) by Bhopal's Barkatullah University. The conferral took place at the Central Tower of Soka University in Japan. The award was conferred by the Vice Chancellor of Barkatullah University, Prof. M.D. Tiwari, who had come to Japan especially for this occasion.
The conferral of the honorary doctorate, announced earlier in September 2015, comes in recognition of President Ikeda's outstanding contri­bution to world peace and the development of education and culture.The conferral ceremony began with a rendition of the Indian national anthem. After the citation was read out by Prof. Tiwari, the degree of Doctor of Letters (Honoris Causa) was presented to Prof. Baba, President of Soka University, who received the award on behalf of President Ikeda and also read out President Ikeda's acceptance speech.
The citation states: The central theme in Dr. Ikeda's philosophy is that "human revolution"—inner-motivated change—within even a single individual can positively influence all humankind. Ranging from the protection of human rights to sustainability and the empowerment of women and youth, his concerns are all underpinned by Buddhist philosophy and respect for the dignity of life.
The central tenet of Dr. Ikeda's thought is the fundamental sanctity of life, a value which he sees as the key to lasting peace and human happiness. Indeed, Dr. Ikeda's unstinting commitment towards humanity makes him a gift to humanity.
Addressing those present at the conferral ceremony, Prof. Tiwari said, "It was my long cherished wish to honour Dr. Ikeda's contribution. I would like to express my deepest gratitude to be able to confer the Doctor of Letters (Honoris Causa) from Barkatullah University upon Dr. Ikeda today."
Earlier, Prof. Tiwari and his wife went to the Tagore Square where the statue of the great Indian poet Rabindranth Tagore seemed to be watching over the students. They then moved to the Central Tower of Soka University where the conferral ceremony was held. Here they were welcomed by Soka University student representatives as well as Indians studying there. The honoured guests were overwhelmed by the warm welcome they received and happily joined an informal interaction where those students who went overseas to study in India also joined in.
Prof. Tiwari seeks to develop an education environment that is contextual and centred round the students' needs. Concerned about those who cannot afford to go in for higher education because of economic reasons, he has raised funds and instituted over 200 scholarships, ensuring that the university treats all equally. He said, "Those who have studied in our institution will spread their wings in society and start serving those who do not have the opportunity to go in for higher education. In this way we can eradicate the inequality that is founded on economic disparities."
Encouraging the students, Prof. Tiwari said, "Dr. Ikeda who is the founder of your institute is the person whose name should be known all over the world. I am expecting you, who have studied in Soka University, a wonderful university, to fully explore your potential and be truly successful."