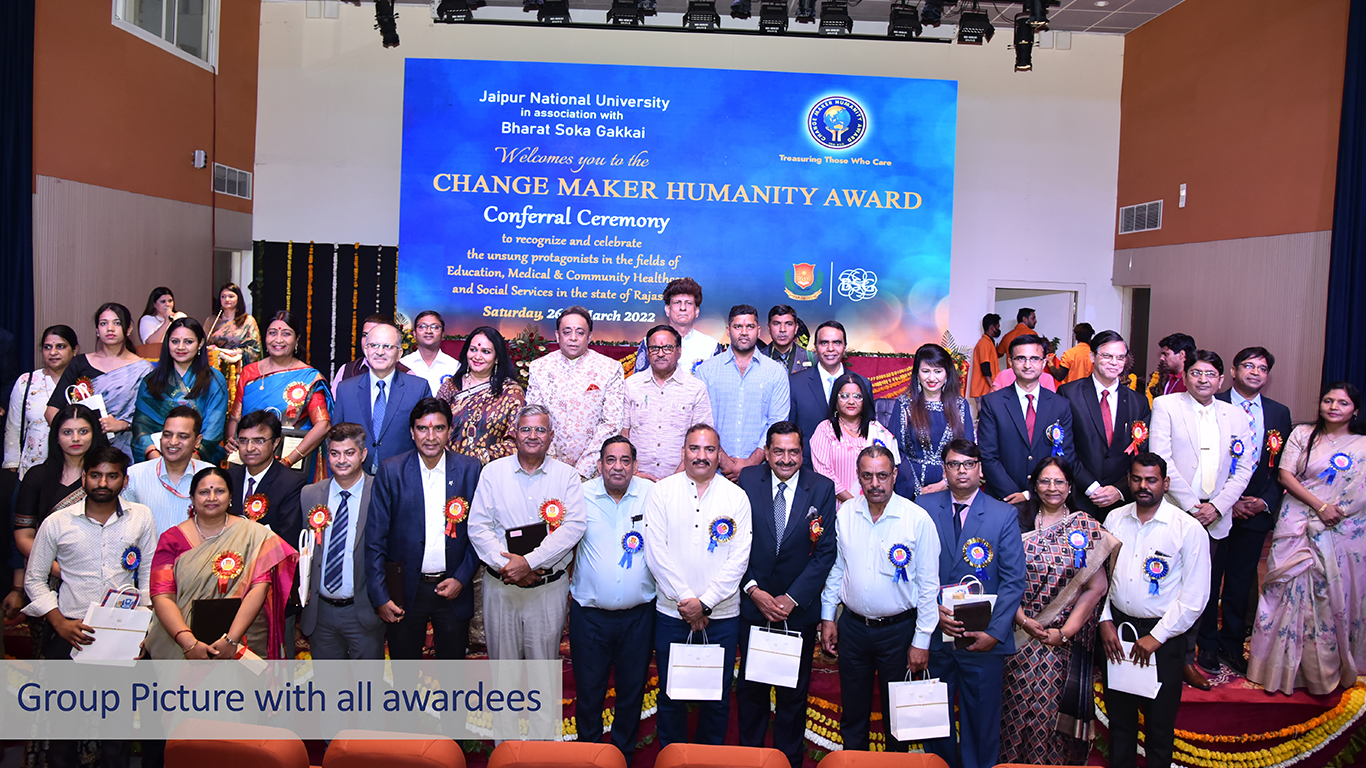 Report
Recognizing individuals who provided selfless and untiring support to society especially during the Covid-19 Pandemic, Jaipur National University (JNU) in association with BSG announced the winners of the 'Change Maker Humanity Award' at a ceremony held in Jaipur on Saturday, 26th March 2022.
This joint initiative was launched on December 15th, 2021, to honour and celebrate the humanitarian contributions of those who have worked tirelessly in the areas of Education, Medical & Community Healthcare and Social Services in the state of Rajasthan. The 'Change Maker Humanity Award' received a very positive response and various Individuals, teams, and institutes in Rajasthan were nominated for this award.
An eminent Jury selected 29 awardees in 16 categories from the nominations that were received.
The awards ceremony was attended by around 300 people comprising of 60 BSG members and around 25 guests (from BSG Jaipur).
The ceremony commenced with lamp lighting ceremony which was followed by short films on JNU and BSG. This was followed by the awards ceremony in which each awardee was felicitated by the Chief Guest, Dr. Mahesh Joshi, (Minister of Public Health Engineering & Ground Water for Rajasthan) and the Guest of Honor, Shri Ashok Chandna, (Minister of Skill, Employment & Entrepreneurship (DSEE), and Youth Affairs & Sports for Rajasthan).
In his speech, Dr. Mahesh Joshi said, "In the history of humankind, Mahatma Gandhi was the one who made serving humanity as his foremost duty. Einstein also stated that Gandhi had the greatest philosophy of serving humanity. The change maker humanity award is to recognize and appreciate the efforts of those who are following this path of Gandhi." Mr Joshi also asked everyone to take the lead in conserving water as saving water is saving future.
Appreciating this unique initiative, Shri Ashok Chandna shared that "All the winners and all those who were nominated for the awards as well, are equally commendable and praiseworthy." He said that this kind of initiative to bring to light the un-recognized efforts of many in society is not only an encouragement to the awardees but also to many others to follow the same path. 
He called out to the youth to come forward and be a change maker and create a better society.
Chancellor, JNU, Dr Sandeep Bakshi called the event a milestone in the history of Rajasthan. He applauded the awardees and said "I wholeheartedly congratulate the winners and I'm sure that they will continue to inspire others through their example. We are happy to be associated with BSG in this endeavor and hope to continue to bring many unacknowledged people into limelight"
Chairperson, BSG, Mr Vishesh Gupta congratulated the awardees and thanked the Jury for their unstinting support in finalizing the awardees. He displayed the book "The world is yours to change' authored by President Ikeda, which was gifted to each awardee and a photo album, (comprising of pictures taken by President Ikeda) which was gifted to each Jury member.
In his speech Mr. Gupta expressed his gratitude to the people of Rajasthan for their wonderful response to the initiative and said, "When I looked at the work done by each of the 29 awardees today, I couldn't help but feel strongly that all of you have ably demonstrated the great power of the 'Human Spirit' and the power of a compassionate heart."
He also expressed his gratitude to Dr Sandeep Bakshi and the JNU team for the meaningful association with BSG.
The ceremony concluded with an energetic cultural performance by the JNU students which was followed by a powerful rendition of 'Raag Malhaar' by BSG Arts Division.
The awards ceremony was broadcast live and was viewed by around 1100 members and guests from BSG.
Many guests in the audience shared their feedback that they found the 'Change Maker Humanity Award' a unique initiative and welcomed this step taken by JNU and BSG.
Videos of media Coverage
First India News

Rajasthan DD News

Rajasthan Patrika News Coverage Video

Zee Rajasthan
Photo Gallery