347TH ACADEMIC HONOR FOR DR IKEDA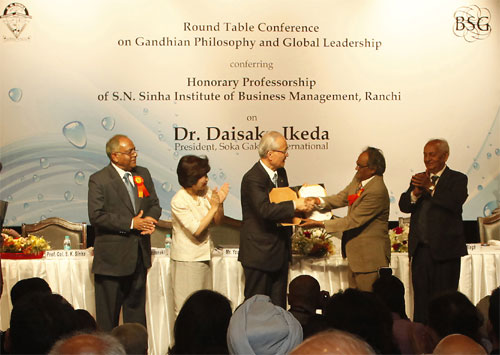 The Satyendra Narayan Sinha Institute of Business Management (SNSIBM), Ranchi, conferred an Honorary Professorship on SGI President Ikeda on 19 March 2014 at the Chinmaya Mission Auditorium, New Delhi. This is Dr Ikeda's 347th academic honor and the 12th award he has received from an Indian institute.
The conferral ceremony was in conjunction with a roundtable con­ference, to discuss 'Gandhian Philos­ophy and Global Leadership', jointly organized by SNSIBM and BSG.
SGI General Director Yoshita­ka Oba received the honour (a cita­tion) on behalf of President Ikeda. The citation presented to President Ikeda says he has created "a great movement of Human Revolution around the world in awakening humanity to the great potential hidden in each human being."
Distinguished guests at the meet included Patna University Vice Chancellor Yedla C. Simhadri, SGI Senior Deputy Women Leader Yumiko Kasanuki, SGI Deputy Women Leader Hisae Shimase, SNSIBM Chairman NP Singh, Head of Department SK Sinha, Chief Project Manager SR Prasad and former Vice President of the Indian Institute of Public Administration KN Srivastava.
Leading the conference discussion, Prof. Sinha said Gandhi commanded no army nor conquered any territory but his modesty and simplicity was very captivating. Prof. Sinha described President Ikeda as "a Buddhist philosopher, poet laureate and peace proponent of world renown."
Prof. Simhadri said in his keynote address that Dr Ikeda today is one of the leading personalities carrying on the legacy of Gandhi and the Buddha.
President Ikeda, in his acceptance speech, read out by Mr Oba, praised the institute's vision for providing an opportunity to the disadvantaged students so that they can enter the mainstream. He said, "It is especially noteworthy that your institute has integrated the Gandhian tradition of nonviolence and Buddhist philosophy into your academic program to examine ways in which compassion and creativity may be introduced into our socio-economic system."