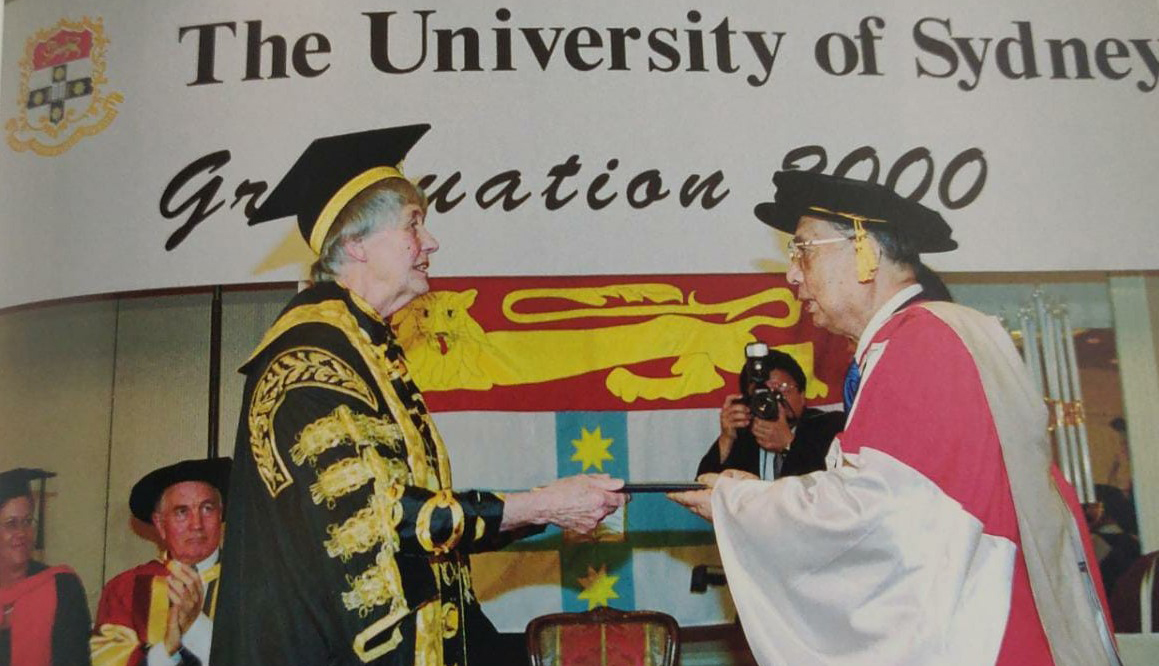 Daisaku Ikeda receiving an honorary Doctorate of Letters from the University of Sydney, Singapore; November 2000
Source: Photo album- In pursuit of peace, p.77
In appreciation of his efforts to strengthen mutual understanding through cultural and educational exchange and build a grassroots solidarity for peace, Daisaku Ikeda has received numerous academic honors and awards from governments, as well as recognition from various international organizations.
As of 2022, Ikeda has been conferred with more than 400 honorary doctorates, more than 800 honorary citizenships, close to 100 honorary professorships, 2 honorary presidencies and one honorary rectorship from institutions of higher education in 46 countries. In all, Ikeda has received over 4000 honors and awards till date.
He is a recipient of 19 honorary doctorates from Indian universities and over 40 awards from various Indian organizations.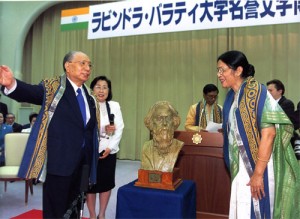 Daisaku Ikeda receives an honorary Doctorate of Literature from Rabindra Bharati University, 24 February 2004
Source: https://www.daisakuikeda.org/main/profile/album/
These awards pay tribute to Ikeda's multifaceted contributions as a peacebuilder and philosopher. They cite his efforts in promoting education, enhancing cross-cultural understanding and peace, championing dialogue, his accomplishments as a writer and philosopher, and his contributions as a visionary humanist committed to empowering ordinary people. Above all, they laud him as a man of action and a multidimensional personality.
Ikeda has frequently acknowledged that he receives such honors on behalf of Soka Gakkai members all over the world, and in appreciation of his own mentor and teacher, Josei Toda.
"I'm a graduate of Toda University. [Mr.] Toda… gave me personal instruction in a broad range of subjects. As such, every award presented to me is an honor that I dedicate to my mentor. I also want you to know that every time I am given such an award, I accept it as your representative and share it with all our members working tirelessly for peace, culture and education everywhere."
Daisaku Ikeda
Some of the Awards conferred on Ikeda from India include:
Daisaku Ikeda official website